To Handle the News?????


Ladies.. hold your panties.. take a deep breath..


Are you Ready..

Can you stand it...

Have You Heard.....



New Kids On The Block Stage Comeback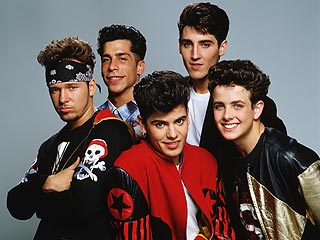 Sweet Mary, Mother of Jesus.. there is a God!!
Ok I'm so kidding... now at least....(not about the comback - that's real)
However back in 1990.. when I was in the 8th grade.. I admit it.. I'm not ashamed.. I was IN LOVE with NKOTB. I had the posters, the cassette tapes, I knew the dance moves and the life history of each and ever yummy Kid.. well except Joey.. even for me he was a bit young then.
In fact.. thanks to one Melissa (formerly Breeden) I was front row center stage at what was at the time probably the most incredibly exciting concert OF MY LIFE! My ticket was actually for the 2nd or 3rd row.. I don't recall, but the seat on the front row directly in front of where I was sitting somehow ended up empty about 1/4 way through the concert.. and you can bet your sweet rat-tail that I ended up in it.. or rather on it.. standing.. on the metal folding chair.. surrounded by thousands of other incoherantly screaming teenage girls.
I even brought a teddy bear to the concert with me that had a tag around it's neck that said, "I Love Jon".. I liked the sweet quiet ones even then lol. Right in the middle of "You've Got the Right Stuff".. where they did that dance move where they swung their legs side to side..
I struck!

I threw the bear to the stage (did I mention I played softball, was in fact one of the few girls who could hurl a ball from left field to 1st base) and hit Jon right in the.... well..
I'll just say this.. in less time than it took for the Boys on Stage to get through a chorus of "Oh Oh Oh Oh Oh" I was off the chair and behind at least 3 people hiding. Ok they were about 10 feet above me on stage so I'm sure if he'd been trying hard enough Jon could have spotted me as the gal who however unintentionally had just assaulted his nads with a stuffed animal, but I have to give him credit.. he never missed a beat.. ok well he missed one.. but got right back into the swing of things after only a microsecond of surprise!
Here's the Article on People.com
After months of speculation and rumor, the Kids are coming back. A well-placed source tells PEOPLE exclusively that New Kids On The Block are indeed getting back together.
The band's Web site,
www.nkotb.com
, which had been dormant, is now back up and running in anticipation of the official announcement, which the source says will be made in the next few weeks.
The site currently features a television graphic with a fuzzy, flickering photos of NKOTB in their heyday, and a link inviting fans to sign up for info.
The boy band, which made legions of tweens swoon in the early '90s, selling more than 50 million albums, became a worldwide phenomenon before calling it quits in 1994.
Eighteen years later, they're still "Hangin' Tough." The oldest "Kid," Jonathan Knight, now a real estate developer, will turn 40 later this year. Since the band's demise, former members Donnie Wahlberg, 38, and Joey McIntyre, 35, have seen acting success, while Danny Wood, 38, has worked as a music producer and Knight's brother, Jordan, 37, has continued to record.
Could you just die??!?!!!!!!!!!?!??!